Free Remote Control!
Do you know the risks?
Why is free remote control so critical to security?
A typical free remote control service would be 'Chrome Remote Desktop' and 'TeamViewer'. Free solutions for personal use are convenient and cost-effective. However, when used by businesses, security issues are difficult to be addressed and open to risks. Consider following security points if you're using or planning to deploy a free remote control service.

How secure is Chrome Remote Desktop?
The Chrome Remote Desktop, released by Google, is highly accessible by easily logging in with your Google account.
However, it lacks the ability to source security threats, such as allowing/blocking only certain IP addresses or limiting the connection times free remote control.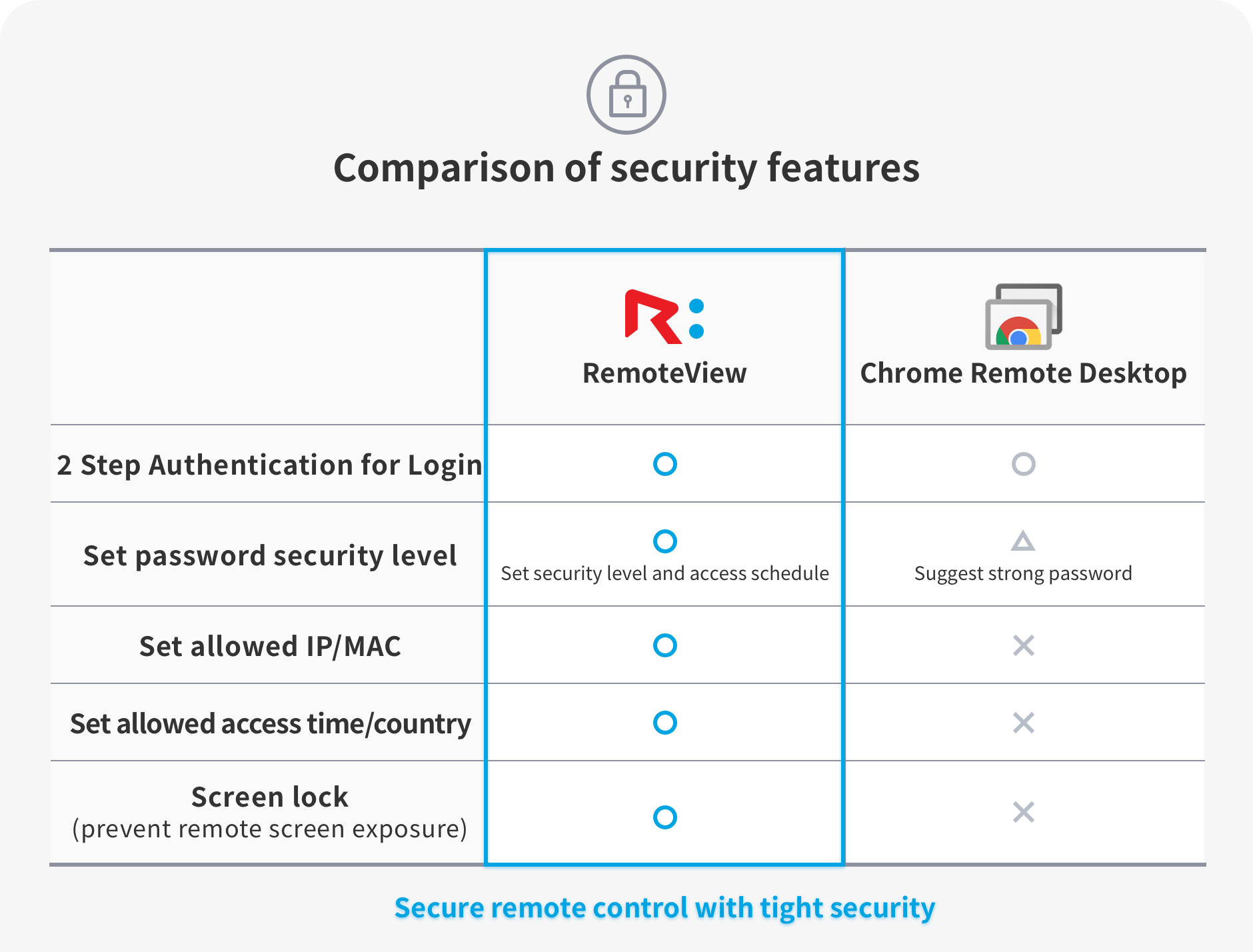 RemoteView offers a variety of security oriented features. The OTP authentication provides a randomly generated one-time password. Block overseas logins and allow IP/MAC settings to completely block unauthorized and unspecified connections.
Learn more about the powerful security features of RemoteView.
RemoteView remote control for more secure environments
Is the world's No. 1 TeamViewer secure?
What are the differences between TeamViewer's management option?
Currently, TeamViewer is the world's No. 1 remote control solution. Its free remote control is limited to non-commercial individuals, and enterprises require to pay for the service. TeamViewer's paid service provides limited admin functionalities. Without proper management option, what security issues could arise?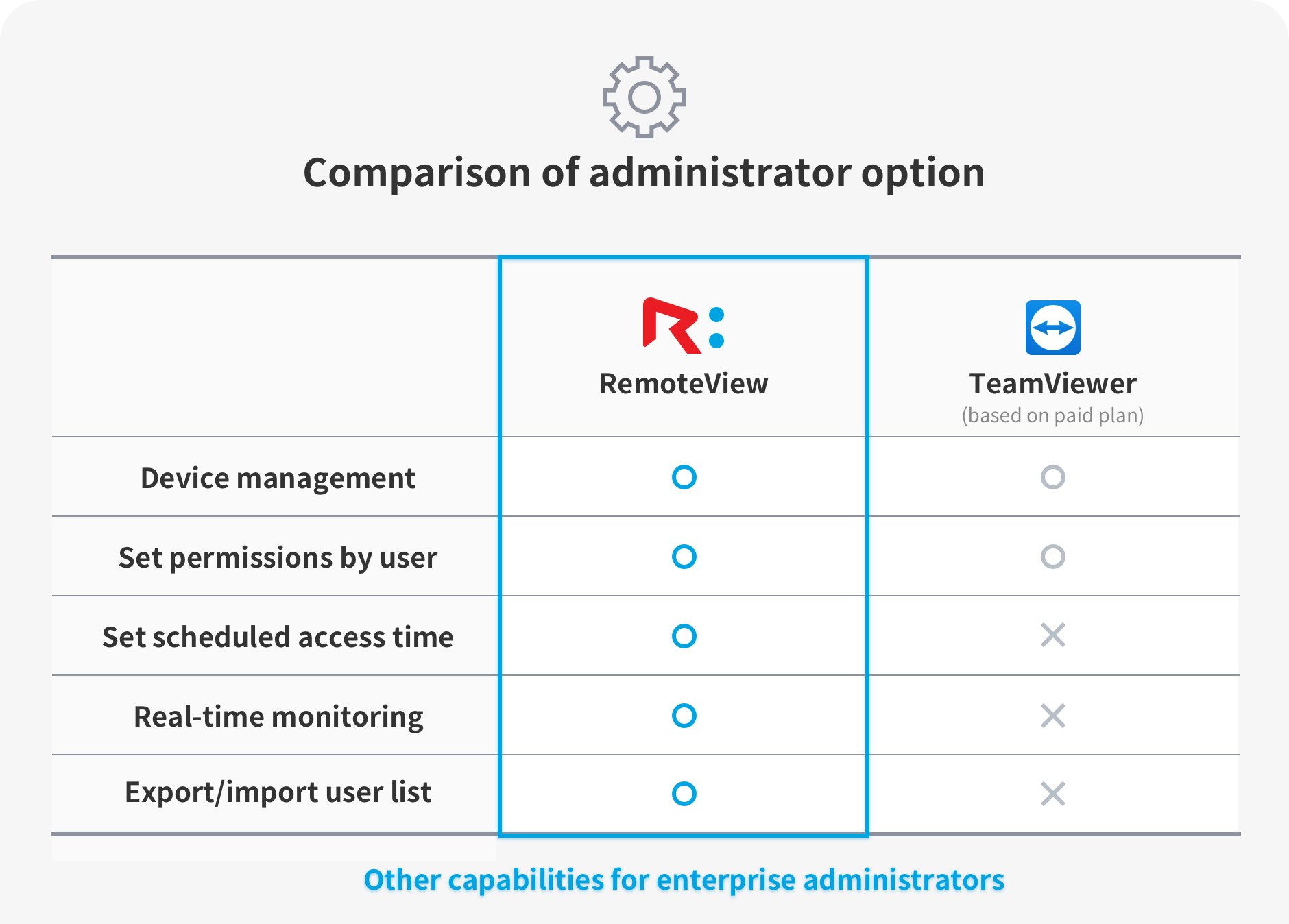 RemoteView effectively manages large numbers of users and groups by permission based control and connection time. It ensures a complete secure environment by blocking illegal program/site access, unauthorized processes, services, or URL. Real-time monitoring makes it easy to manage/supervise registered devices.
Free Remote Control
Learn more about RemoteView's enterprise grade management features.
RemoteView, remote control certified by 300k global partners
Ignored security policy, is this acceptable?
Without management option,
it is cumbersome to enforce security rules on all employees.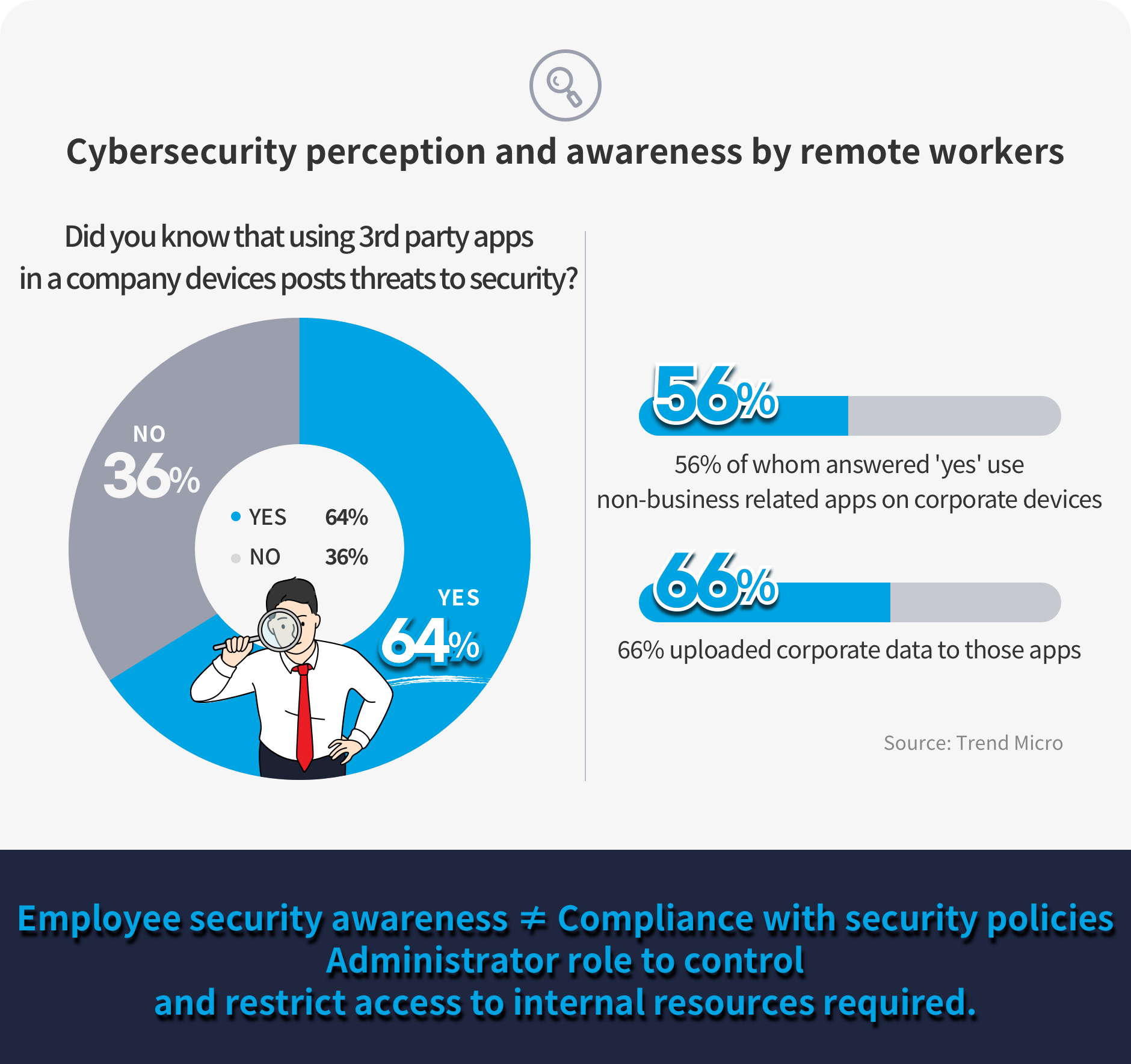 According to the "security awareness status" survey of remote workers, employees' security awareness does not lead to compliance with security policies. More than half of the employees are aware of security threats, but act in violation of them. The administrator's role in restricting access to internal resources is critical to increased security when using remote access.
TeamViewer? RemoteView?
Which remote control tool should I choose?
Learn about the security and management features for enterprise level remote control.
Which one is the smarter choice?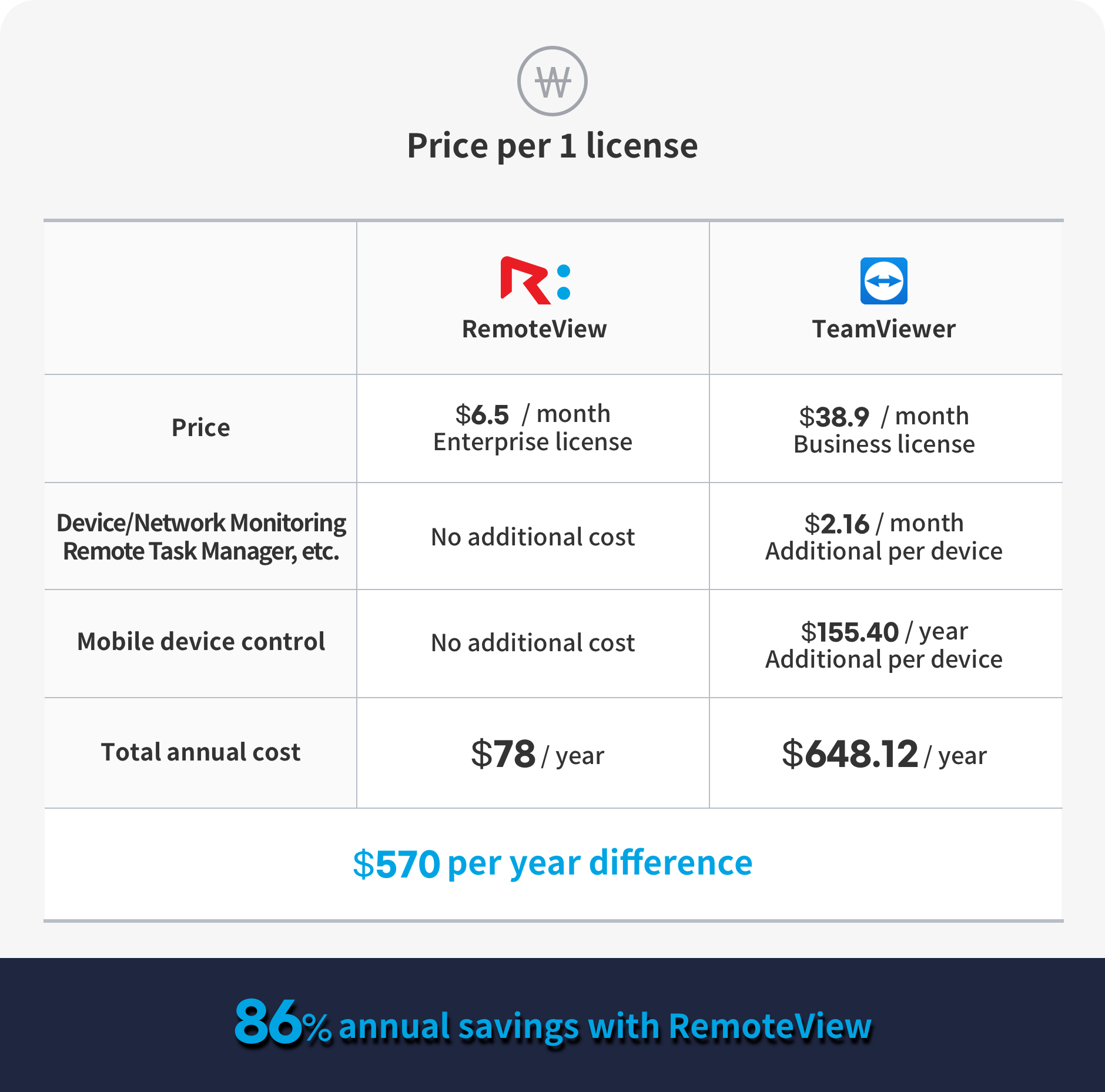 RemoteView offers all features for $6.5 per month.
For businesses, along with security, price is an important consideration. TeamViewer offers a business license for $38.9 per month, but charges an additional fee for management options. RemoteView is available with all features for $6.5 per month. With service available globally, installation to customer support is all covered. Start secure, streamlined remote control with Enterprise-level solution RemoteView.
Try the enterprise version of RemoteView today.
Access RemoteView for 14 days at 0 cost.
Remoteaccess
Remotework
Work-from-Home