Simple and Easy Remote Access Anywhere,
Anytime with RemoteView
"RemoteView controls PC from a mobile device such as a smartphone,
as well as control Android device from a PC or mobile. "
Device control from mobile
Remotely control your PC with your mobile!
Easily control your PC through the RemoteView app on your mobile device!
Remote control Anytime, Anywhere from Mobile with RemoteView!
Needs to control the office or home PC right now?
You can remotely manage them quickly and easily with mobile remote control.
RemoteView on mobile offers variety of features!
RemoteView on mobile offers variety of features!
[Virtual Mouse/Tap]

Select virtual mouse control or tap control method for convenient screen operation on mobile!

[Virtual Mouse Control]

A virtual mouse is provided for fine control on the mobile screen!

[Tap Control]

For a quick control on mobile, use scroll, right-click, two-finger scroll, and two-finger tap!

[Quick Menu]

Add/control frequently used programs from the quick menu for a more convenient remote control!

[Frequently used shortcut keys]

Easily access shortcut keys that are frequently used on your PC by simply selecting from the menu.

[Special keys]

PC's special keys from keyboard not available on the smartphone keypad can be pressed with a tap!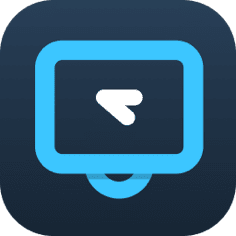 Download the app now and remotely control with your mobile!
The RemoteView mobile app does not discriminate model or manufacturer.
Access from both Android and iOS!

O S

Android 6.0 or higher

C P U

1GHz or higher

Storage

50MB or more

O S

iOS 12 or higher

C P U

1GHz or higher

Storage

50MB or more
Control Android devices
Android remote management with RemoteView!
Efficiently manage your company's Android devices.
Just access the website anytime, anywhere for easy and quick management.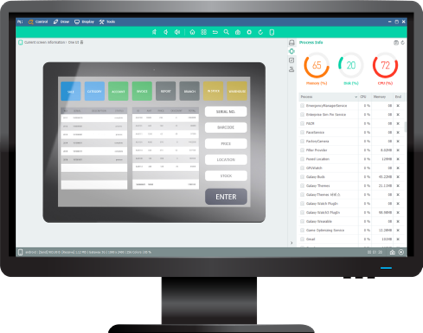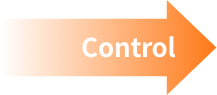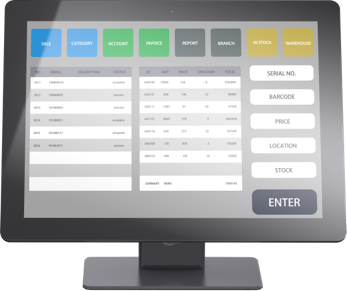 * Android OS-based devices
(POS/Kiosk/Signage/Smartphone, etc.)
Monitor the devices status and manage them remotely!
View and operate industrial devices (Android-based POS, digital signage, etc.) from a remote location.
[Check Hardware]

Check the hardware status
(memory, disk, CPU) of the remote device

[Check and control software]

Check detailed process, system, and app installation information of the mobile device at a glance, and run and delete apps.

[Real-time device control]

Directly operate devices with the mouse while viewing the screen in real time

[Additional features]

Use for screen capture / drawing / recording / storage / sharing of remote devices and more!
Remotely control industrial equipment to increases management efficiency!
Innovatively change the Android-based unmanned terminal management method.
With remote management using RemoteView, immediately check the status and solve problems without visiting the site!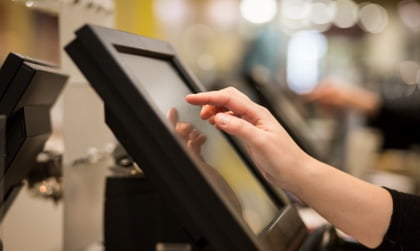 Multifunction Solution such as ATM or POS device failed to operate, it is resolved immediately on the spot without visits.
"By installing the RemoteView Agent on a multifunction device equipped with Android OS, you can access its screen at any time using a computer or mobile device to perform security updates and settings changes. In addition, when a customer using a multifunction device encounters a problem hard to solve, there is no need to visit and solve the problem.,Simply connect to the device from a remote location and provide support immediately. Positive results such as reduced work processing time and processing cost, as well as improvement on customer satisfaction are seen."

– Samsung Multifunction Device –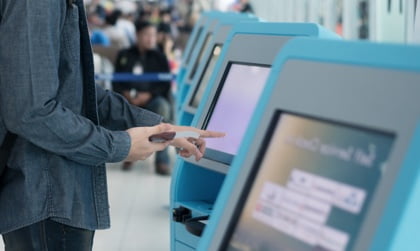 For unmanned devices such as Kiosk, ATM, POS device failure, remotely control / manage failures without on-site visit.
"The Korean Authority of Lands & Infrastructure Safety (KALIS) installed RemoteView, a remote control solution, on the fare settlement device connected to the unmanned public parking lot breaker system installed across the country to help elderly drivers who are unfamiliar with the remote fare settlement and automatic breaker release service. Before the introduction of RemoteView, there were constant incoming inquiries due to equipment operation errors or inexperienced operation of the equipment, and there were limitations in dispatching personnel. User's satisfaction increased and dispatching personnel stress was reduced."

– Korea Facilities Corporation –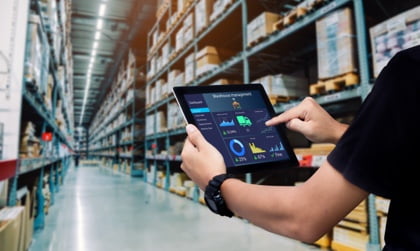 Easy remote management of all industrial devices with smartphone/tablet. No additional equipment required.
"As all employees in stores nationwide were using tablet devices to check the product arrival/delivery status, it was difficult to manage the devices. However, with RemoteView, all employees can remotely access tablet devices to support their work. They are managed in groups according to the characteristics of the device, allowing a more systematic management. The ROI is increasing because we can manage the in-house devices only with RemoteView without adding any additional equipment."

– Kyobo Books –