No installation

RemoteView WebViewer

No installation and in HD! Remote control PC from a web browser
(Microsoft Edge, Chrome, Safari, etc.) with RemoteView WebViewer faster
RemoteView WebViewer, what makes it better?
Straight forward control
No installation
There is no need to install
the Viewer (controller side) program.
Instantly remote control from any PC with the WebViewer.
Remote access is 5 times faster
It takes only 3 seconds to start remote controlling the devices.
Start working on it without delay with the WebViewer!
Smoother screen display
Control PC as being in front of it with High Frame Rate technology.
Enjoy a smoother experience with the WebViewer.
RemoteView WebViewer with only the must-have features.
The ease of use is further enhanced with simple and intuitive features.
No install
Quick Access
High Frame Rate
Are you ready to experience No installation WebViewer?
The future of remote control, experience it first.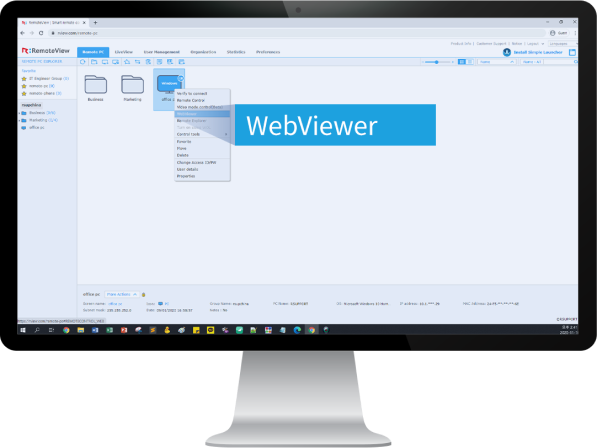 1. Go to Preferences -> Company settings -> enable [Connect from WebViewer] option.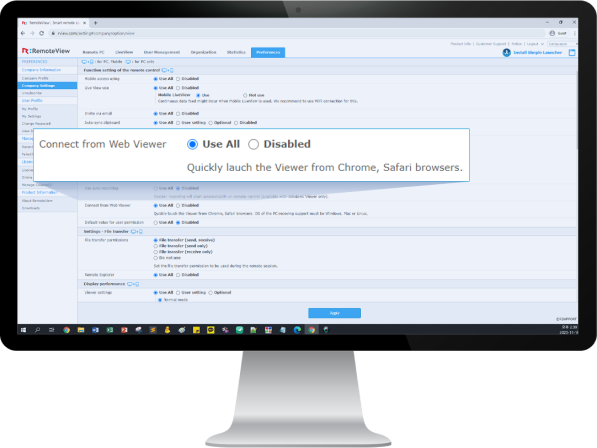 2. Right-click the agent and select [WebViewer].
3. Experience the next-generation remote control with "RemoteView WebViewer".
For corporate customers, please contact your admin. After enabling user option with the administrator ID, you can access the WebViewer.
No installation WebViewer is available on all major OS.
WebViewer specification and requirements
Side
OS
Browser
Viewer (Controller side)
Windows 10, 11
Chrome 50 or later
Safari 11 or later
Edge 84 or later
Firefox 45 or later
Opera 36 or later
MacOS 10.12 or later
Android 5.0 or later
iOS 10 or later
Agent (Controlled side)
Windows 10, 11
Windows Server 2008 or later
MacOS 10.12 or later
Linux CentOS x64 7.0~7.7
Linux ReHat x64 7.0~7.7
Linux Ubuntu 64x 14.04~18.04
* No installation WebViewer is available for account with 'Enterprise' license.
Meet No installation WebViewer now!